Masi Gaither's candles are meant for the nose and eyes, but they tempt the taste buds.
"My biggest seller is my banana pudding," said the owner of Hitchcock Confectionary Candles in Augusta, Georgia. "It has a banana slice and a vanilla wafer in there. It's all wax. My second best-seller is strawberry cheesecake. And then I have brownies."
HireSmart Cares helps young entrepreneurs like Gaither, a 2022 high school graduate, bring savory smells, sumptuous barbecue sauces, or whatever business hopes they have from dream to reality. 
That's why Mark and Anne Lackey, owners of HireSmart Virtual Employees and its sister nonprofit organization, HireSmart Cares, gave Gaither seed money for her fledging commercial operation.
"By 12 years old, I had four businesses," said Mark. "I've always had the mindset of starting and doing things. I drive Anne crazy with ideas. And some of those kids out there remind me of me."
Mark and Anne want to see the entrepreneurial spirit passed from generation to generation. That's why they're glad to provide financial support to Gaither and others, just a little boost to help young self-starters carve their place in the market.
But running a business takes much more than an idea. There's putting together a business plan, a budget, a marketing plan, and a personnel policy and then carrying through on all the daily details. It's work, but there's also a huge potential reward. HireSmart drives home a simple message to young business hopefuls — look at the big picture and the details, then give it a go. Don't be afraid!
"HireSmart really helped a lot," she said. "I was able to use the funding to elevate my business more by getting more materials to make my inventory. I was very grateful for them to give me that opportunity."

Gaither said she's thrilled to get the support from HireSmart.
Gaither's business is currently a part-time commitment. The newlywed also works as a receptionist at a pediatric office in Augusta. However, she's hoping to make the candle enterprise a full-time job.
"I work on my business all the time," she said. "But I would like for this to be my full-time commitment. I work on it when I can."
She aims to provide non-toxic candles in the candle industry, a market dominated by big companies that sell candles from paraffin wax, which she said isn't healthy.
"I use coconut soy wax, and all of my candles are vegan," she says. "I really wanted to hit that target audience."
Her inspiration came from her mother and grandmother.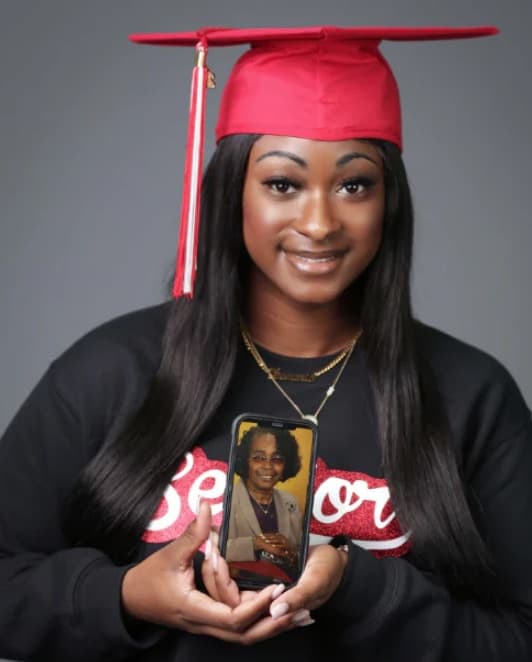 "They love anything that smells good, candles, perfume, anything," she said.
Gaither wanted to create something different, and that's when the idea of dessert candles came to her.
"I just wanted to be different when it came to how I presented it," she said. "That's what inspired me to do the dessert candles. It smells exactly how it looks."
Like you want to eat it.
Donate And Help Kids Here.
For Madison Samples, "Maw Maw" lives on in the kitchen.
The high school junior stood by her late great-grandmother for years, learning how to make an oven offer its best gifts — a red velvet or coconut cake, a pie, or any number of sweets that make dieters abandon self-discipline for delight.
She wants to start a bakery in her hometown inspired by her Maw Maw's teachings when she's done with culinary studies at a local technical school.
Mark and Anne Lackey, owners of HireSmart Cares, want to see Madison and other youth find business success. So, they're spreading plenty of seed money for future businesses, including a sizable scholarship for Madison, the first-place winner in her hometown "MadicoMaker" entrepreneurial contest. Those funds will help the baker get her business going when she's ready.
"The scholarship through MadicoMakers helped me by giving me some money guaranteed to start my business after college," said Madison. "It may not be enough to completely pay for my starting cost, but it is a good start that I would not have had without the scholarship. I'm grateful for the money that will guarantee a start to my business."
Of course, Mark and Anne are well-versed in business startup challenges. Mark was a business owner by age 12. He's always looked for business ideas, and he's the big-picture "wouldn't-this-be-cool?" dreamer of HireSmart, while his wife, Anne, is the "make-it-happen" half of the duo.
It's a prolific pair. The Lackeys own seven successful businesses and want to pass what they've learned to the next generation while giving a financial boost to young entrepreneurs like Madison aiming to find a place in the world.
Madison is laying the groundwork for the bakery while still in high school, studying culinary arts at the Broad River College and Career Academy in Danielsville, Georgia. She'll continue those studies at Athens Tech after high school.
"I don't want to go to a university because I don't feel like I need that, but I want to go to Athens Tech, because they have a really good culinary program," she said. "And then I want to open up a bakery in the county."
The teen said she sees a need for her Maw Maw's Bakery in her hometown.
"Madison County only has a few actual stand-alone bakeries, and most of the sweet stuff in the county would be at places like Ingles," said Madison. "You need homemade bakeries where you would get things like your grandma's or something. So I wanted to take my baking skills and apply it to the county."
The future business owner said her red velvet cake is tough to resist.
"My all-time favorite would be red velvet cake because it's so good," she said. "It's my favorite thing personally to eat, so it's my favorite to make, too."
"Maw Maw" passed away in 2021. Madison, who first began learning to bake at age 8, said she wants to honor her great-grandmother's memory with her business.
"When I got the chance to do the (MadicoMakers) competition, I wanted to dedicate it towards her since she was my inspiration," she said.
Madison County Chamber of Commerce Director Anna Strickland, who has featured Madison's baking at Chamber events, said HireSmart's support of young entrepreneurs is heartwarming and a good investment in the next generation.
"The Chamber is proud to provide a platform for business leaders to support the next generation of entrepreneurs," said Strickland. "We are excited that HireSmart has decided to invest in the future of our business community through their support of this program."
Donate And Help Kids Here.
Two cans of pork and beans, a bag of rice, and four bounced checks — that's what Bobbie Rooker encountered when she took over in 1992 as Madison County's Action Coordinator, which included overseeing food services for those in need.
Assistance for needy Madison County, Georgia residents was sparse 30 years ago. But that's changed in a big way over the past three decades. These days, the food bank shelves are stocked with food and much more.
Many empty stomachs have been filled in this rural community thanks to a community rallying behind Rooker and her quest to feed the hungry. Two leaders of that effort are Mark and Anne Lackey of HireSmart Cares, who assist in a variety of ways. The Highway 98 facility in Danielsville is heated and cooled thanks to a new air conditioning unit donated by HireSmart. The Lackeys also make noteworthy monetary donations on a regular basis.
And, of course, there are the blue bags filled with food, clothes, household items — whatever the needy might need. Mark and Anne have attended countless conferences over the years, speaking and passing out blue bags for conference attendees to carry various goodies received at the gatherings.
Well, those bags serve another purpose — carrying sustenance for those down on their luck. The Lackeys stuff the blue bags full, then drop them off with Rooker and her assistant, Leann McMullan.
Rooker said the Lackeys' donation of the air unit, the food, the funds, the clothes — it all adds up. It shows HireSmart Cares does indeed care.
"Those regular contributions are the glue that holds us together," said Rooker of HireSmart's efforts.
The Lackeys' support for the food bank is nothing new. They've always made basic sustenance for the needy a focal point, giving frequent and substantial donations to the Norcross Cooperative Ministries and the Jacksonville Downtown Ecumenical Service Council.
"We've always helped the food bank wherever we are locally," said Anne. "We know that if people don't eat, nothing else matters. If your basic needs aren't met, you cannot be a productive member of society, period. When we started out, we didn't have much. But what we did have typically would go there because we knew it would have the greatest impact."
The donations tie directly into HireSmart Cares' big mission: helping kids.
Rooker said seeing a child going hungry is heartbreaking, but it's a common sight.
"It's tough when you see somebody, and they're living in their car, and the car is piled up, and they're trying to get food, and that kid is grabbing for what you're handing him because he's hungry," she said. "How can you go to school and learn when you haven't had any breakfast? How can you sit there in school and listen when you don't know where you'll be when it gets dark?"
Rooker also launched the county's Christmas toy program that provides toys on Christmas morning for needy children. The program will be 30 years old next year and will serve 178 local children this year. The donations from the Lackeys help brighten Christmas morning for those children.
Of course, people across the age spectrum struggle. Rooker sees veterans in dire straits, too.
"It breaks my heart to think our veterans are not looked after," she said. "They really aren't. We have some that come in, and they can't buy their medicines, and they don't have enough food. That's who fought for our freedom, and it just infuriates me."
Older residents often find it tough to ask for help, Rooker said.
"I had one client come in the last six weeks," she said. "He said, 'I've never had to ask for food,' When you see a person over 60 asking for food, it takes a lot of their pride away. It really does, and he actually had tears and said, 'I need to eat.' And I said, 'We've got food. That's why we're here.' He said, 'Do you have anything that I can do? Can I help you do something?' He wasn't able to do that. He could hardly get up the ramp, but he wanted to try to give back. And three weeks ago, he brought me a $20 check. And I took it because it would have broken his heart if I hadn't."
Rooker has heard so many stories from those hungry and hurting. It gets to her. And she occasionally drives home and throws a rock to let out some of that pain. Rooker is a rock lover, and her late husband, Bill, would joke with her about having to pick up rocks wherever they went.
"Bill used to say every time we went on a trip, 'I know, you want to bring back some rocks,'" she said. "He'd say, 'Look, there's a pretty rock.'"
And she'd go pick it up.
She still holds the rocks, thinking of the past and contemplating today's world, which is truly harsh for so many.
"I see a lot," she said of her work at the food bank. "Sometimes I have to go home and dig a hole in the dirt or throw some rocks across the field. My place is full of rocks. Whoever gets my house will wonder who in the world brought all these rocks here."
Rooker has endured her own hardships, too. She lost both sons over the past decade, with her younger son, Mickey, passing away in 2013, and the older son, Clay, in 2018. Mickey's son, Justin, lives with her and accompanies her at the food bank. Look up at the walls of the food bank, and you'll see elaborate puzzles that were pieced together by Justin. He listens to his Travis Tritt albums, makes cards for people, talks to those who show up needing food and often helps load their cars.
"He (Justin) makes it a better place here," said assistant food bank director Leann McMullan.
McMullan says the same about Bobbie Rooker. She said the food bank isn't just a place for those in need to find some physical sustenance but a spot they find a kind soul who listens.
"She is like a counselor," said McMullan. "People come in, and they just go off, not in a bad way. 'My husband has cancer.' 'My sister's died.' And she's lost a lot and has a lot of experience. So she can relate to it in a way that I can't. I haven't gone through the same life experiences she has. So she can understand how they feel, talk to and relate to them, and I think they feel better when they leave."
Rooker said it's necessary for a community to be compassionate and to do its best to lift people up when they're down. And she said Madison County shines these days with the way Mark and Anne support the food bank, along with others.
"I've been to conferences and seen all directors and counties coming together, and from just listening, I've always left with, 'You mean Madison County, you do all that? You've got that much support?' Yeah, we do, we have that much support,'" she said.
With support from HireSmart Cares and others in the community, Madison County has come a long way from two cans of pork and beans, a bag of rice, and four bounced checks.
The shelves are stocked and hurting people are getting what they need.
The relief often arrives by blue bag.
When Thomas Lord wanted to start his own business, HireSmart Cares stepped in with seed money so the high schooler could give his first entrepreneurial effort a go.
Thomas got a grant from Mark and Anne Lackey, Co-Founders of HireSmart Cares and a loan from the U.S. Department of Agriculture's Farm Service Agency (FSA), and with the help of his parents, Keith and Lauren, Thomas put up two 10' by 16' greenhouses where he would grow tomatoes and peppers for his business, F.R.O.G. Produce, which stands for "Farm-Raised, Organically Grown".
Thomas got the business idea after the agriculture department at the Broad River College and Career Academy in Danielsville, Georgia reactivated its aquaponics system, where plants are grown in the water that has been used to cultivate fish. Thomas was soon hooked on growing his own business.
"I originally thought about potentially growing flowers in the greenhouse and really growing anything in the greenhouse was really interesting to me," he said.
Thomas cut the fish from the equation. But he had a vision — abundant tomatoes and peppers grown in a greenhouse through hydroponics, the process of growing plants using water and nutrients without soil. It would be his own niche on the family farm, where his mom said he has always been "faithful but halfhearted help in the poultry houses".
Lauren said she loved seeing her son's excitement about starting his own business.
"It was so exciting to see his enthusiasm and listen to his ideas for marketing," she said. "He stayed up way too late researching various hydroponic systems, and we visited three operations to get ideas."
Thomas said he initially grew "Rebelski" or some other beef steak type of tomato along with some cherry tomatoes, bell peppers and little mini bell peppers.
But temperature stabilization of the air and water proved a persistent challenge in the small greenhouses. Soil acts as a temperature stabilizer for roots in the ground, which aren't exposed to the sun like in a greenhouse. Hydroponics requires considerable attention to the temperature, which affects the absorption rate of the nutrients. Thomas used an above-ground 50-gallon drum to feed the plants with water. He said a 250-gallon drum buried underground would be better for temperature stabilization. He also used fans to keep air flowing through the greenhouses. After he discovered the initial difficulties related to temperature, he narrowed his plan.
"I went more into focusing on specifically more beef steak variety of tomatoes, because we were noticing that some of our initial problems were keeping temperature control in the house since it's such a small and contained area," he said. "It was two 10' by 16' houses and a tiny fluctuation is a very big fluctuation in terms of the houses being so small. So, we decided to focus on the singular beef steak variety - so we could stabilize everything and make sure everything goes well before we start trying to branch out into some other options."
Thomas sought to grow "indeterminate" tomatoes, which continue to set and ripen fruit throughout the growing season, instead of "determinate," which hit their mature height and set all their fruit at once.
He said he would get a good first yield off the plants, but the second batch always proved problematic.
"The first harvest would go fine and then after that, they would just not really do anything," he said.
Thomas is approaching the end of high school. He'll cross the stage at Madison County High School in May, and then he's planning to go to college and then work in the hospitality industry.
"The two industries I've looked at the most would be hotel and resort and the next one would be the food and beverage industry," he said.
Thomas said he's not planning to continue with hydroponics as a business in the short term, because of the costs, but it's something he still loves and sees as a hobby. He said working in the greenhouses has been a good place to "think through the day or the week or a problem that you have that you're trying to find a good solution for."
But beyond growing plants, it's been a growing endeavor for the teen, giving him perspective on the hard work it takes to start a business.
"It's taught me a wide variety of life skills that I wouldn't have otherwise thought about, because typically high schoolers aren't thinking about budgeting or anything," he said. "But with this, the FSA wanted me to list out the average estimated amount for each thing I went through. What do I need? What am I going to use? And it really helped me with learning how to set out a budget for something. I needed to know where I was going to stand. It might have been a little bit lower. It might have been a little bit higher, but it gave me a good estimate of what it was going to be and that's just not a life skill that was an everyday thing for me. It's definitely better to learn that earlier than later in life. These are things I wouldn't have thought about on a typical day in high school."
Thomas said he's grateful for the opportunity HireSmart Cares provided.
"The Lackeys were generous enough to give me a grant to help with this, and they have also given me some really good advice," said Thomas. "It's been very helpful, and I really enjoy being able to communicate with them and appreciate the experience they've offered me."
When Typhoon Rai (also known as Typhoon Odette) hit the Philippines in December 2021, a number of HireSmart Virtual Employees felt the pain, suffering damage to their homes and a sharp deterioration in their living conditions. But HireSmart Cares, the non-profit philanthropic arm of the HireSmart team, quickly let the storm victims know they weren't alone, offering assistance in a variety of ways to help employees get their lives back. Here's Bernard's story:
Bernard and his wife prepared for the approaching typhoon. They filled up their generator and stocked up on supplies and batteries. Then they waited. The morning of Typhoon Odette in the Philippines shortly before Christmas in 2021 was very calm.
Bernard and his wife, who live in Cebu, carried on with their normal routine, which involves working for U.S. clients as virtual employees for HireSmart Virtual Employees. They cared for their 6-year-old daughter and made sure the family dog was walked and fed.
But then the sun went down.
"At nighttime, it went bang," said Bernard.
The wind howled, the roof rattled, and trees broke apart. Bernard worried about the rising water in a river that was only a few feet from his home.
"We were afraid of the upstairs," he said. "Maybe the roof would fall off or fly off. And basically, we stayed downstairs. My daughter slept through the whole thing, no problem at all. My wife kept bugging me, asking me to check to see if the internet is back. We have a generator, so we were good in terms of the electricity, but she was like, check the internet and see if it comes back, we need to go back to work."
The house withstood the storm's punch. But when the sun rose, Bernard walked outside.
"Devastation everywhere," he said. "There was a lot of clutter and property damage."
Power poles were down and blocking the roads. There was no electricity, no internet.
"We had to wait for the electric company to try and lift the posts up so that people can drive by," he said. "That was really a thing that hit me, oh my God, this is going to be big. This is not going to last like a week. This is going to be a whole month thing or something like that before everything gets fixed."
On a typical day, Bernard handles administrative work for a solid waste management agency in the U.S. He works out at a gym, walks his dog, and spends time with his daughter. After the storm, the old routines gave way to new ones.
"We have to go to wells, or what they call here a pump, so we go there every morning, wake up at about 2 a.m., get the car, get all of our containers for water, five-gallon containers," said Bernard. "We go to a spot to get water, we pump it, then go back home. And then afterward, we need to line up for gas. We needed gas for that generator. By the time we're done with the water around 4, you need to line up for gas, and the line was two or three miles long."
Bernard said people in his area stuck together, despite the hardship.
"Here in our area, all of us came together," he said. "We even had people buying foodstuff, and then we'd all cook it in the morning, then we all shared the meal."
But both Bernard and his wife were desperate to get back to work serving their U.S. clients, and there was no internet service to be found.
Thirteen time zones away, Mark and Anne Lackey, owners of HireSmart Virtual Employees and HireSmart Cares, were getting the news of what was happening in the Philippines. They were busy locating employees who had lost internet service. When contact was made, they inquired about their health and their living conditions: What do you need? How can we help?
In all, HireSmart assisted 31 families, replacing roofs for a number whose homes had suffered major damage, paying for temporary housing, and covering costs of computer equipment and a variety of other needs.
Bernard and his family needed a place to stay that had internet services. So HireSmart paid a month's rent for an apartment about an hour's drive north of their home.
"My wife and I are really grateful that we're here at HireSmart," said Bernard. "And we know that they always have our back and always support us in the things that we need, especially in times of trouble. Here at HireSmart, Anne basically said we're all a family. It's not just like you going to a job with your family at home. People help you when you are in need."
Bernard said his clients at the solid waste agency were great, too. During the week between the storm and getting an apartment, Bernard was unable to perform his duties for the solid waste company, but the firm paid his salary anyway.
"They're treating me like part of the family as well," he said.
Bernard and his family went back to their home after the electricity was restored. But their internet was out for three months.
"Gladly, one of our neighbors has a different connection that was restored prior to all of our other connections," he said. "So we actually hooked up so we could work."
He said the typhoon experience was a learning experience.
"The one thing that I learned from it is basically anything like that can happen in your life," said Bernard. "Bad things can happen in your life, not just a typhoon, maybe a family death. But as long as you have the right people behind you and you have the right mindset to move past it, then you'll be good. You're going to be all good, no worries."
We have the honor and pleasure to provide support to Filipinos who were affected by Typhoon Ria in December 2021.
We will be adding updates and support to this page as we have progress. Every dollar counts. If you can, please consider helping. 100% of any donations will go to those in need. Mark & Anne are donating their time to have the most impact and do the most good.
You can send funds via PayPal to Info@HireSmartCares.com or mail a check to HireSmart Cares, PO Box 923116, Peachtree Corners, GA 30010 & mark for Typhoon Ria Support. Thank you!