Troy Hanson's family doesn't need Starbucks. No, they have a coffee whiz under their own roof. And Hanson, a rising high school sophomore, aims to make a career out of the coffee business.
"Ever since I was young, I just like making coffee and food, and I have my own little store that I have in my house," he said. "I started doing that when I was about maybe 12. My family would order something out, and I'd make it. They would order lattes, hot chocolate, cappuccinos, frappuccinos, all sorts of stuff."
Hanson, the son of Richard and Christy Hanson, plans to open his own coffee shop in a few years, and he got a big boost from HireSmart Cares recently, a $2,500 scholarship to help him get the business off the ground.
"I will use the money for probably equipment," he said. "That takes a lot of the budget. I will probably need a larger espresso machine as well as a register."
Hanson earned the scholarship by winning first place in the 2023 Madico Makers contest put on annually by the Madison County Chamber of Commerce. Young entrepreneurs in the county make a "Shark Tank" business pitch to a panel of judges. HireSmart awarded the second and third-place winners $1,000 and $500.
This year's winner presented his plans for "Anchors Café."
"I thought of Anchors because it is in the Bible meaning 'hope,'" he said. "I talked about how I would open up and who I would ask for coffee beans, who I would purchase from, and where I would set my shop up when I do."
Hanson initially plans to set up his coffee business within HomeGrown Market in Colbert, Georgia, which offers a variety of homemade items from Madison County and the State of Georgia.
"They need a person to sell sandwiches and beverages," he said. "Once it (Anchors Café) gets larger, I would think about opening up in a different building and hiring."
Hanson, who plans to study business and cooking in college, voiced his appreciation to Mark and Anne Lackey and HireSmart Cares for the scholarship.
"I would say thank you so much for this opportunity," he said. "It's greatly appreciated that you helped me as a young person to become independent and make my business a business."
HireSmart Cares actively promotes young entrepreneurship, job skills development in grade school, and financial literacy so that youth can be prepared to enter the workforce and perhaps start their own businesses directly out of high school. The organization discourages students from saddling themselves with significant college debt without a clear path to pay it off.
Hanson, who has five siblings, said his most popular item is "mainly my frappuccinos," but he said that's not what he typically drinks.
"My favorite is a flat white," he said. "A flat white is where it's mainly just espresso, and milk has barely gotten any foam."
There are many threats in the digital world, and it takes technical savvy to safeguard today's economy from malicious actors.
Remington Gurley, a 2023 high school graduate, wants to be on the front lines of that battle, and he's getting support from HireSmart Cares to prepare him for that role, receiving a $1,000 scholarship to attend the University of North Georgia, where he will major in cyber security.
Remington said a friend introduced him to the possibility of a career in digital safety.
"I knew I wanted to do something with computer science, but I didn't know what," he said. "And so my friend and somebody he knew were playing around with it one day. He said you want to join us, and I said, 'Sure." And it was super cool, the idea of ethical hacking."
Remington, a kicker on his high school football team, as well as a soccer player, has many interests, including computers, mountain biking, music, and aviation. He wants to fly planes one day.
But his faith is his central focus in life. Remington said he dedicated his life to Jesus Christ around the age of 8, and he's active at his church, Trinity Baptist, helping lead worship as a keyboardist.
"I started playing piano at age 6," he said. "I practiced and stuck with it, and I guess it's been 12 years now I've been playing."
He said playing in a praise band is different than performing alone, noting that in a band, you have to be aware of other players and not fill all the space, letting others shine musically.
Remington said he's worked at the church the past couple of years providing compter-tech, musical, and lighting assistance. He said Trinity worship leader Jeff Branson is a role model to him.
"These past couple of years, I've been hanging out with him and working with him a lot more," he said. "His impact has been huge on me. He's smart. It's very encouraging to see him lead other people. It's like, man, this is the guy I want to be like."
Remington spent several weeks after graduating high school leading worship at Camp Maranatha, where kids attend a Christian summer camp.
"To me, worship is one of the big ways you can connect and be in His presence," he said. "You feel you are with God, and I want them (the kids) to feel that feeling and to understand that the words we're seeing aren't just words on a screen. They're powerful and have meaning behind them."
While cyber security is his college major, the recent graduate doesn't close the door to a career in the ministry.
"I've had thoughts of graduating college and then maybe going into ministry somewhere," he said. "And that's one reason I enjoy leading camps and stuff in summer."
As he looks ahead, Remington knows he has the support of his parents, Todd and Brandy Gurley, who also have a daughter, Journey, an accomplished pole vaulter at Virginia Tech.
"Whatever I've wanted, my parents have always encouraged me, and their biggest thing is, 'Whatever you do, enjoy it, but also make sure you put that don't just halfway do it,'" he said. "Put 100% effort into whatever you do.'"
Remington also has the support of HireSmart Cares, which funds numerous workforce initiatives and scholarships to propel U.S. youth to a bright, productive future. The college-bound teen said he wants to repay HireSmart's generosity by giving back to his community after graduation.
"It's very encouraging and very helpful," he said of the scholarship. "College is expensive, and I hope they (HireSmart Cares) are going to be happy with what I do and happy with my success. And hopefully, after I come back, I can help in the community and give back what they gave me."
Donate And Help Kids Here.
Tony White didn't need college to get a foot forward in life. He got a good-paying job right out of high school with a construction company operating heavy equipment. And he got a welcome boost to start his career with a grant from HireSmart Cares. 
The graduate of Jackson County High School in Hoschton, Georgia studied construction under instructor Jake Slusher and learned about heavy equipment primarily on simulators. But he turned the experience into the real deal, working machinery for Snellville-based road construction company, E.R. Snell Contractor, Inc., which handles a high volume of road projects in north Georgia.
"Mr. Slusher asked me if I'd like to do the heavy equipment class, and I was like, sure," said White. "And after I started liking it and being good at it, he was like, 'Would you like to work with ER Snell?'" 
Well, heck yeah! White jumped at the chance. Now, he's operating a bulldozer on ER Snell road construction sites.
"I'd like to work my way up in the company," he said. "It (ER Snell) seems like a pretty darn good company."
He said it feels good to get a nice paycheck right out of school. And he said he hopes the money can help him develop another skill, blacksmithing. White said he plans to save up enough money to purchase tools.
"I got to get a few paychecks first," he said.
The recent graduate expressed gratitude for the boost he received from HireSmart Cares, which provided "Workforce Development Grants" for White and 13 of his Jackson County classmates who entered the workforce or the military directly out of high school.  
"It will help me get a car," said White.  

HireSmart Cares encourages youth to find a career path that doesn't involve taking on massive college debt without a plan to pay it off. The nonprofit organization supports agricultural and vocational programs that help students find fiscally rewarding career opportunities right out of high school. If you would like to donate, we would appreciate your donation. DONATE NOW 
Blake Wyatt just graduated from high school, but he's already taking big strides in the world of work.  
Thanks to his new job at Georgia Metals in Danielsville, the 2023 Madison County High School graduate is earning a solid paycheck, an accomplishment not all young adults can claim so soon after high school.
"It was nice, real nice," said Blake, regarding his first paycheck from the family-owned company that specializes in manufacturing quality metal construction products. "It feels like I'm more independent now."
Blake also got a nice kickstart to his career with a "Workforce Development Grant" from HireSmart Cares, which helped him buy quality work boots, an essential part of his gear.
Blake's swift transition into the workforce is in line with HireSmart's mission: to help young people move straight into gainful employment after high school, avoiding the trap of deep college debt without a plan to pay it off. Blake shows that a good income and financial stability are achievable directly after high school.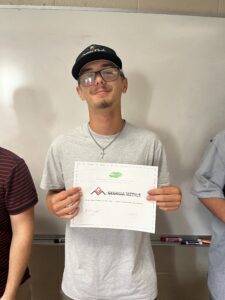 The recent graduate emphasizes how much he's already learned in his young career.
"I've expanded my knowledge," he said. "I learned what measurements I need to know. I learned to cut metal more. I've learned a little painting here and there, and they've taught me a lot of new tools."
Blake, who studied welding at Madison County High School, has learned about "metal inert gas" (MIG) welding, but he wants to master "tungsten inert gas" (TIG) welding to advance his career.
"I want to go to Athens Tech to learn TIG welding and major in business," he said. "TIG welding jobs are among the best paying in the industry. If you can master it, you're guaranteed a spot at most any job."
Blake is also setting long-term financial goals. He recently opened a CD banking account for retirement and is saving for a truck.
The 18-year-old finds balance in his life through outdoor activities, enjoying fishing, dove hunting, and playing ball with his friends.
HireSmart celebrates the success of young professionals like Blake and aims to inspire more students to follow a similar path.
Blake said he appreciates the support from HireSmart.
"It really did help," he said. "I didn't have too much money set aside (before the job), and I was going to have to borrow money, but the grant helped me get some work boots." 
Donate And Help Kids Here.
Nate Tucker is a high school senior and already living an adult grind. He works weekend nightshifts at Wendy's, clocks in five days a week as a line support member at a Kubota plant, and maintains a high grade point average.
The 18-year-old has had some rough breaks at home over the years and was placed with family members who say he must leave their house as soon as he graduates.
"I'm having to find a new place to stay after graduation," he said. "It's nothing I've done. They just don't want me there."
But Nate has an advocate in his Work-Based Learning counselor, Kate Wilson, who sees a drive in the young man that many of his peers lack.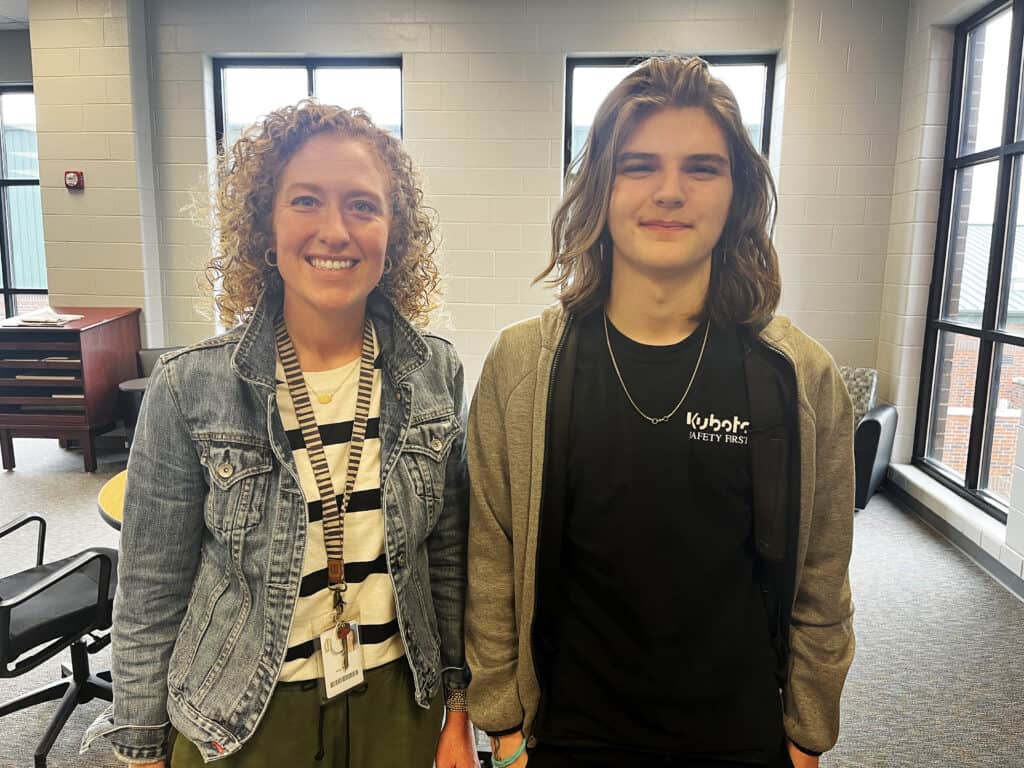 "We work with many kids who don't care, who don't work, and who don't show the initiative and the drive," she said. "They're not dealing with half the issues in their life as Nate deals with. It is rewarding to work with students who care about their future. And it is rewarding to work with kids who work as hard as Nate works."
Kate arranged an interview at Kubota for Nate. She said the gratitude he showed was touching. The two were walking back to the car at the plant after he got the job when Nate tapped her on the shoulder.
"He asked, 'Can I hug you? Nobody's ever done this for me,'" said Kate. "I think my job is important in many ways, but it's not typically that important. To find a kid in a hard situation and put him in a job that potentially changes his life."
Getting the Kubota job meant purchasing work boots, and not the cheap kind. Nate took his Wendy's money and bought a good pair.
Kate asked him how he would manage financially that week.
"I'll make do," he said.
Kate then remembered Mark Lackey and HireSmart Cares.
"Mark came to a construction advisory committee meeting that I was also present at, and he talked about HireSmart and what the program does for students and what they're able to sponsor," she said.
Mark agreed to reimburse Nate for the cost of the boots, and the high schooler cashed the check a few days later.
"Because Mark acted so quickly, it really helped Nate, who is an independent 18-year-old paying for his own bills," said Kate.
The moment highlights exactly what HireSmart Cares actually cares about - helping young people with initiative find a path to success, even if it means putting boots on their feet.
Nate said he works with power steering pumps and drive shafts at Kubota.
"With the drive shafts, you have to unwrap the covers and then get a bar code and stick into something with the driveshaft and keep up with it because if you don't, it messes the whole thing out of the track," he said.
Nate also enjoys chemistry and his composition class with Kenneth Powers, who said Nate shows a real drive to be his best.
"We live in an era when so many students take things for granted," he said. "This student is not taking this for granted. He understands how important this is to his life script. This is his ticket to job satisfaction and success in life. And I think he's going to run with it. I really do. Some people just need a little help. He's a survivor."
Donate And Help Kids Here.
Some students don't speak, don't engage, and don't show signs of confidence in the classroom.
But when that particular child finds a special thing and is energized, talkative, and proud of what they've made or learned — a teacher knows he or she has made a real difference in that kid's life.
Anja Cleveland, who works with fourth and fifth graders to construct wood products at Danielsville Elementary School in Danielsville, Georgia, sees that happen regularly, the brightness in the eyes, the silent child speaking, and the energy that comes with confidence.
Kids of various skill levels work in her classroom on collaborative projects, including a new set of picnic tables at the back of the school that are sturdy and smooth and now available for use by students and teachers for years to come.
"A lot of the kids who don't have the academic ability have the physical abilities to do this (construction)," said Cleveland. "And it gives them a power they don't feel they have in the classroom. It allows them to shine by just doing physical stuff."
What Cleveland describes — a young person's awakening to new confidence and new opportunities — is essentially the whole point of a Madison County nonprofit organization, HireSmart Cares, with a simple goal, "Helping Kids."
Madison County residents Mark and Anne Lackey, who own multiple businesses, including HireSmart Virtual Employees and HireSmart Cares, are using funds from their other business ventures outside of the county to invest in their home community, Madison County, by providing scholarships, funds for the ag center, and money tagged for local initiatives, like Cleveland's construction class, that help local youth learn skills that will help them in life and boost their confidence in themselves.
Mark Lackey presented Danielsville Elementary School with a $2,500 grant to help the construction program get the supplies to keep teaching kids how to use their hands to create what they want, applying math, tool skills and conceptual thinking while working as a team.
"We set up a nonprofit to do these types of things," said Lackey to Cleveland, adding that job skill training is a primary focus of HireSmart Cares. "Our organization gives scholarships for college, but I don't want to see kids go to college and come out with a $50,000 bill that they're going to be paying for 30 years."
Lackey, who wants to see youth develop career skills while still in school, was given a tour of the construction classroom and visited with the students at the picnic tables they constructed.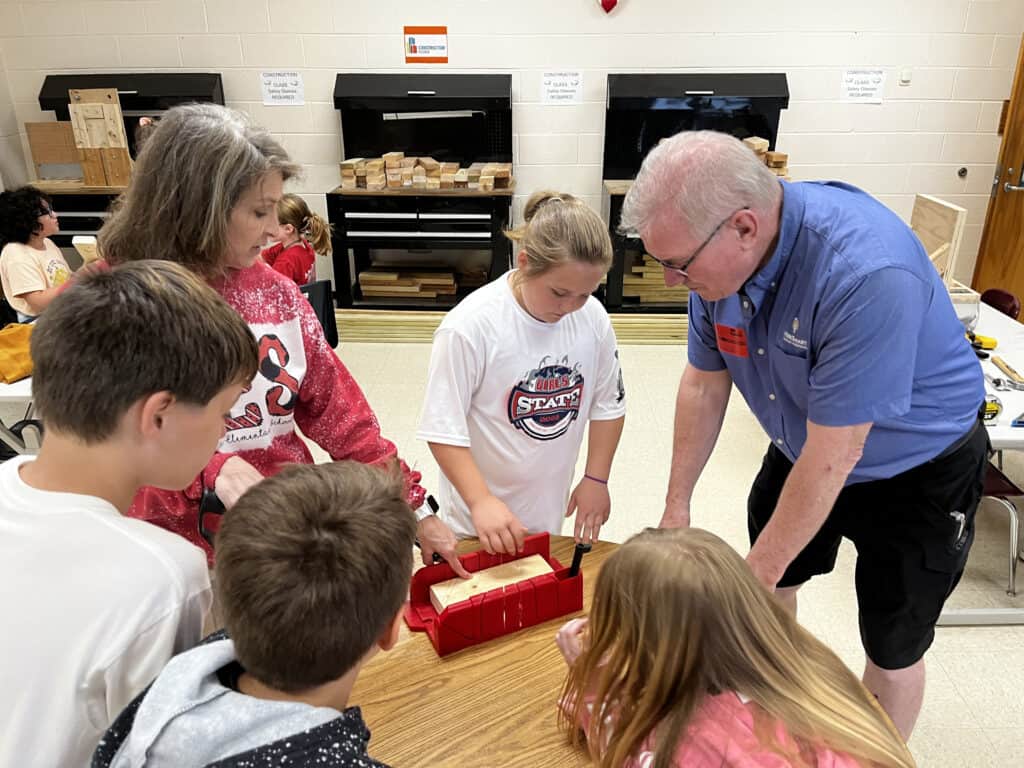 He chatted with the students about their handiwork and praised the group for working together to make sturdy tables that will be used for years to come. Students in Cleveland's classes have also made birdhouses, planters for their mothers, podiums for the Special Olympics, worm boxes, corn-hole sets and more.
"Y'all are good problem solvers," Lackey told the students when shown how they worked through inevitable snags in the process.
Cleveland teaches 30 fourth graders and 30 fifth graders per semester, so 120 students over the year. She said each student is taught the basics before beginning any projects.
The para-professional got the program going at Danielsville Elementary, the only elementary school in the county currently with such a program. The high school offers a variety of construction skill learning opportunities. But there's no program at the middle school, and Cleveland said she wishes that could happen at some point. Because the kids in her class learn construction skills, they then have a gap of three years before they can work on that again in high school.
Her students say they have fun in her class.
"I love it," said construction student Verona Myers. "I've been to three other schools. They didn't have many fun activities like this. It's awesome to get to do this. It gives you real-life skills like you see how math actually helps us."
Danielsville Elementary Principal Deana Bray said the enthusiasm she sees from kids in the class is infectious, bringing joy to the staff.
"It's just something I'm so proud of and excited that we're making a difference and impacting and shaping their lives," said Bray. "The joy they (the students) get because they love to surprise us (the staff). They'll call for us, and they will have created this magnificent thing. None of this is possible without Mrs. Cleveland. It's really not. She's amazing."
Cleveland, Bray, and assistant principal Breanne Smith thanked Lackey for the grant for the program.
"OMG, can I hug you? Thank you!" said Cleveland to Lackey when shown the check.
Donate And Help Kids Here.
Masi Gaither's candles are meant for the nose and eyes, but they tempt the taste buds.
"My biggest seller is my banana pudding," said the owner of Hitchcock Confectionary Candles in Augusta, Georgia. "It has a banana slice and a vanilla wafer in there. It's all wax. My second best-seller is strawberry cheesecake. And then I have brownies."
HireSmart Cares helps young entrepreneurs like Gaither, a 2022 high school graduate, bring savory smells, sumptuous barbecue sauces, or whatever business hopes they have from dream to reality.
That's why Mark and Anne Lackey, owners of HireSmart Virtual Employees and its sister nonprofit organization, HireSmart Cares, gave Gaither seed money for her fledging commercial operation.
"By 12 years old, I had four businesses," said Mark. "I've always had the mindset of starting and doing things. I drive Anne crazy with ideas. And some of those kids out there remind me of me."
Mark and Anne want to see the entrepreneurial spirit passed from generation to generation. That's why they're glad to provide financial support to Gaither and others, just a little boost to help young self-starters carve their place in the market.
But running a business takes much more than an idea. There's putting together a business plan, a budget, a marketing plan, and a personnel policy and then carrying through on all the daily details. It's work, but there's also a huge potential reward. HireSmart drives home a simple message to young business hopefuls — look at the big picture and the details, then give it a go. Don't be afraid!
"HireSmart really helped a lot," she said. "I was able to use the funding to elevate my business more by getting more materials to make my inventory. I was very grateful for them to give me that opportunity."

Gaither said she's thrilled to get the support from HireSmart.
Gaither's business is currently a part-time commitment. The newlywed also works as a receptionist at a pediatric office in Augusta. However, she's hoping to make the candle enterprise a full-time job.
"I work on my business all the time," she said. "But I would like for this to be my full-time commitment. I work on it when I can."
She aims to provide non-toxic candles in the candle industry, a market dominated by big companies that sell candles from paraffin wax, which she said isn't healthy.
"I use coconut soy wax, and all of my candles are vegan," she says. "I really wanted to hit that target audience."
Her inspiration came from her mother and grandmother.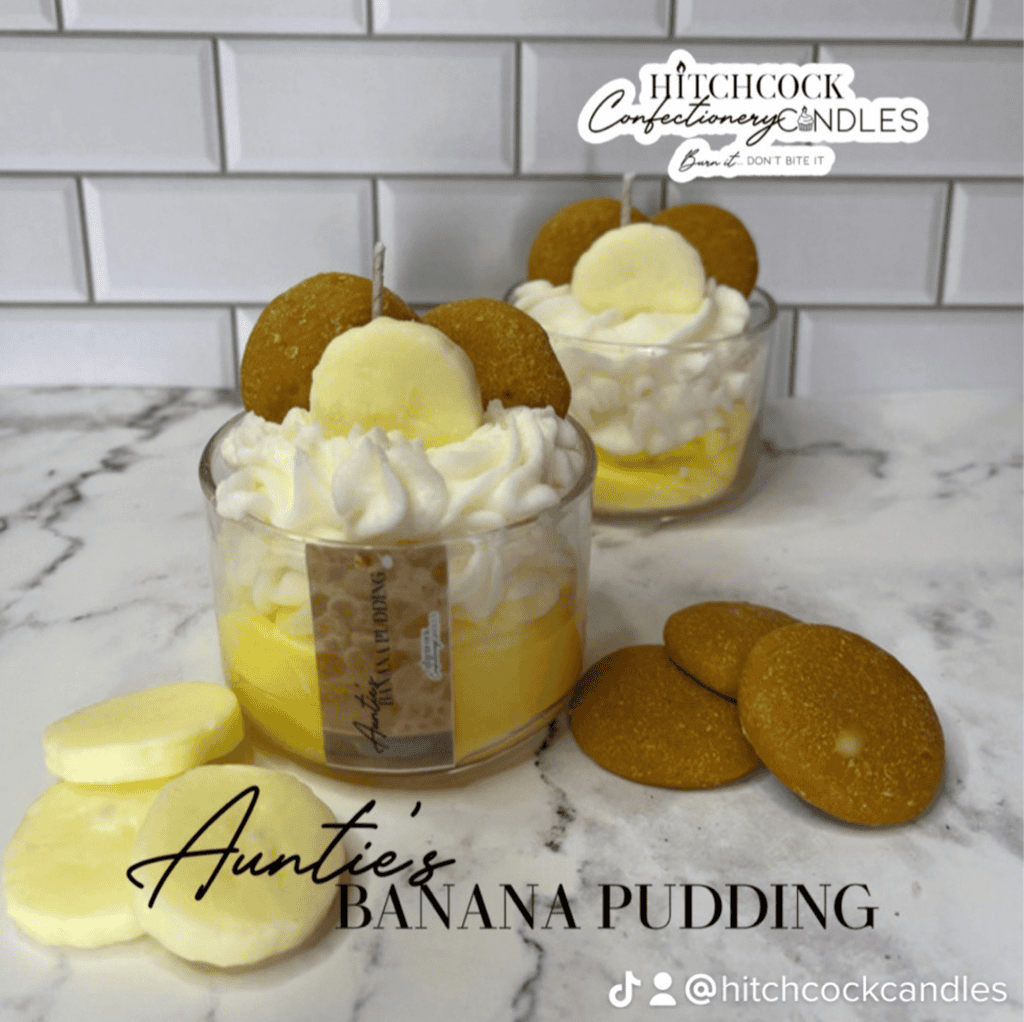 "They love anything that smells good, candles, perfume, anything," she said.
Gaither wanted to create something different, and that's when the idea of dessert candles came to her.
"I just wanted to be different when it came to how I presented it," she said. "That's what inspired me to do the dessert candles. It smells exactly how it looks."
Like you want to eat it.
Donate And Help Kids Here.
For Madison Samples, "Maw Maw" lives on in the kitchen.
The high school junior stood by her late great-grandmother for years, learning how to make an oven offer its best gifts — a red velvet or coconut cake, a pie, or any number of sweets that make dieters abandon self-discipline for delight.
She wants to start a bakery in her hometown inspired by her Maw Maw's teachings when she's done with culinary studies at a local technical school.
Mark and Anne Lackey, owners of HireSmart Cares, want to see Madison and other youth find business success. So, they're spreading plenty of seed money for future businesses, including a sizable scholarship for Madison, the first-place winner in her hometown "MadicoMaker" entrepreneurial contest. Those funds will help the baker get her business going when she's ready.
"The scholarship through MadicoMakers helped me by giving me some money guaranteed to start my business after college," said Madison. "It may not be enough to completely pay for my starting cost, but it is a good start that I would not have had without the scholarship. I'm grateful for the money that will guarantee a start to my business."
Of course, Mark and Anne are well-versed in business startup challenges. Mark was a business owner by age 12. He's always looked for business ideas, and he's the big-picture "wouldn't-this-be-cool?" dreamer of HireSmart, while his wife, Anne, is the "make-it-happen" half of the duo.
It's a prolific pair. The Lackeys own seven successful businesses and want to pass what they've learned to the next generation while giving a financial boost to young entrepreneurs like Madison aiming to find a place in the world.
Madison is laying the groundwork for the bakery while still in high school, studying culinary arts at the Broad River College and Career Academy in Danielsville, Georgia. She'll continue those studies at Athens Tech after high school.
"I don't want to go to a university because I don't feel like I need that, but I want to go to Athens Tech, because they have a really good culinary program," she said. "And then I want to open up a bakery in the county."
The teen said she sees a need for her Maw Maw's Bakery in her hometown.
"Madison County only has a few actual stand-alone bakeries, and most of the sweet stuff in the county would be at places like Ingles," said Madison. "You need homemade bakeries where you would get things like your grandma's or something. So I wanted to take my baking skills and apply it to the county."
The future business owner said her red velvet cake is tough to resist.
"My all-time favorite would be red velvet cake because it's so good," she said. "It's my favorite thing personally to eat, so it's my favorite to make, too."
"Maw Maw" passed away in 2021. Madison, who first began learning to bake at age 8, said she wants to honor her great-grandmother's memory with her business.
"When I got the chance to do the (MadicoMakers) competition, I wanted to dedicate it towards her since she was my inspiration," she said.
Madison County Chamber of Commerce Director Anna Strickland, who has featured Madison's baking at Chamber events, said HireSmart's support of young entrepreneurs is heartwarming and a good investment in the next generation.
"The Chamber is proud to provide a platform for business leaders to support the next generation of entrepreneurs," said Strickland. "We are excited that HireSmart has decided to invest in the future of our business community through their support of this program."
Donate And Help Kids Here.