Some students don't speak, don't engage, and don't show signs of confidence in the classroom.
But when that particular child finds a special thing and is energized, talkative, and proud of what they've made or learned — a teacher knows he or she has made a real difference in that kid's life.
Anja Cleveland, who works with fourth and fifth graders to construct wood products at Danielsville Elementary School in Danielsville, Georgia, sees that happen regularly, the brightness in the eyes, the silent child speaking, and the energy that comes with confidence.
Kids of various skill levels work in her classroom on collaborative projects, including a new set of picnic tables at the back of the school that are sturdy and smooth and now available for use by students and teachers for years to come.
"A lot of the kids who don't have the academic ability have the physical abilities to do this (construction)," said Cleveland. "And it gives them a power they don't feel they have in the classroom. It allows them to shine by just doing physical stuff."
What Cleveland describes — a young person's awakening to new confidence and new opportunities — is essentially the whole point of a Madison County nonprofit organization, HireSmart Cares, with a simple goal, "Helping Kids."
Madison County residents Mark and Anne Lackey, who own multiple businesses, including HireSmart Virtual Employees and HireSmart Cares, are using funds from their other business ventures outside of the county to invest in their home community, Madison County, by providing scholarships, funds for the ag center, and money tagged for local initiatives, like Cleveland's construction class, that help local youth learn skills that will help them in life and boost their confidence in themselves.
Mark Lackey presented Danielsville Elementary School with a $2,500 grant to help the construction program get the supplies to keep teaching kids how to use their hands to create what they want, applying math, tool skills and conceptual thinking while working as a team.
"We set up a nonprofit to do these types of things," said Lackey to Cleveland, adding that job skill training is a primary focus of HireSmart Cares. "Our organization gives scholarships for college, but I don't want to see kids go to college and come out with a $50,000 bill that they're going to be paying for 30 years."
Lackey, who wants to see youth develop career skills while still in school, was given a tour of the construction classroom and visited with the students at the picnic tables they constructed.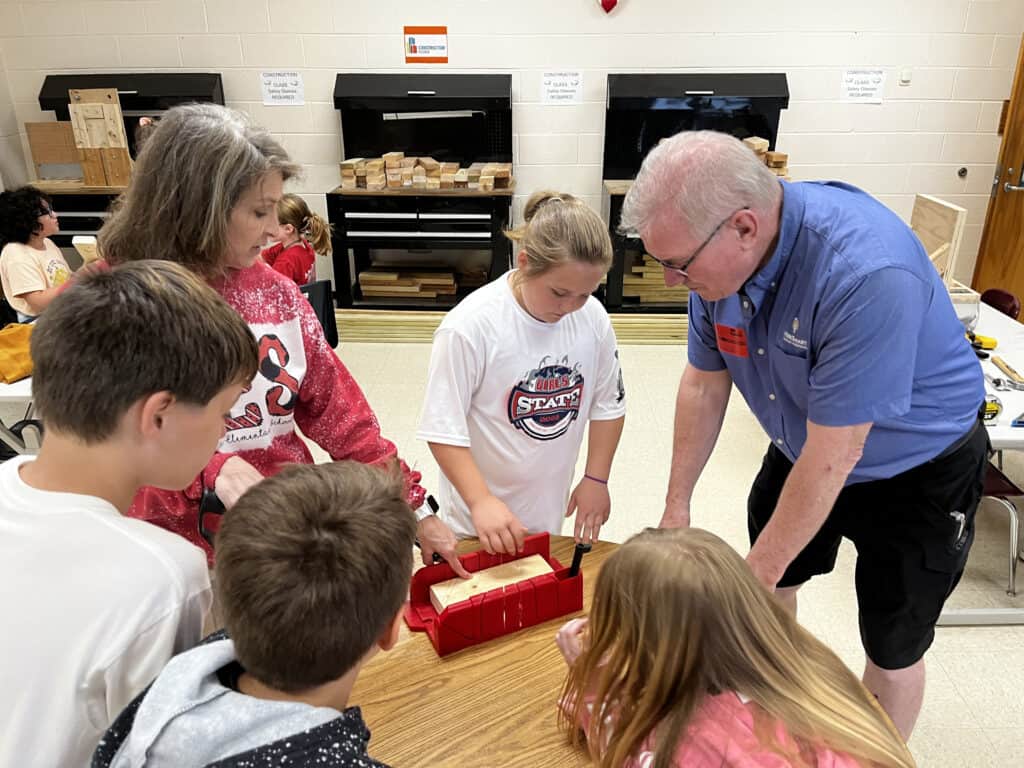 He chatted with the students about their handiwork and praised the group for working together to make sturdy tables that will be used for years to come. Students in Cleveland's classes have also made birdhouses, planters for their mothers, podiums for the Special Olympics, worm boxes, corn-hole sets and more.
"Y'all are good problem solvers," Lackey told the students when shown how they worked through inevitable snags in the process.
Cleveland teaches 30 fourth graders and 30 fifth graders per semester, so 120 students over the year. She said each student is taught the basics before beginning any projects.
The para-professional got the program going at Danielsville Elementary, the only elementary school in the county currently with such a program. The high school offers a variety of construction skill learning opportunities. But there's no program at the middle school, and Cleveland said she wishes that could happen at some point. Because the kids in her class learn construction skills, they then have a gap of three years before they can work on that again in high school.
Her students say they have fun in her class.
"I love it," said construction student Verona Myers. "I've been to three other schools. They didn't have many fun activities like this. It's awesome to get to do this. It gives you real-life skills like you see how math actually helps us."
Danielsville Elementary Principal Deana Bray said the enthusiasm she sees from kids in the class is infectious, bringing joy to the staff.
"It's just something I'm so proud of and excited that we're making a difference and impacting and shaping their lives," said Bray. "The joy they (the students) get because they love to surprise us (the staff). They'll call for us, and they will have created this magnificent thing. None of this is possible without Mrs. Cleveland. It's really not. She's amazing."
Cleveland, Bray, and assistant principal Breanne Smith thanked Lackey for the grant for the program.
"OMG, can I hug you? Thank you!" said Cleveland to Lackey when shown the check.
Donate And Help Kids Here.