Jonalyn was in a terrible position. Should she use limited family funds to pay for a quality education for her daughter this year or allocate that money to her special needs son, who needs speech therapy?



Thanks to HireSmart, Jonalyn doesn't have to make that tough choice. She now has the money to do both after receiving an education scholarship for her 5-year-old daughter, Marciella Audrey.



"When I received the news that I was one of the people that got picked (for the scholarship), I cried," she said. "I literally cried. I cried my heart out. I was so thankful."



Jonalyn and her husband, Christopher, have a 9-year-old son who has been diagnosed with "echolalia," which is the non-voluntary repetition of another individual's speech. She said therapy has helped him communicate with the family at a basic level.



"He's doing speech therapy, and if we don't do that, we have a hard time communicating with him," she said. "But since we started doing that, he improved a lot."



Jonalyn sees the therapy as essential, but she also wants her daughter to get a strong start on her educational journey, and she says enrolling her in a quality school is a must.



"I don't want to choose between what our special needs kid needs and what our daughter needs," she said.



Jonalyn has been employed by HireSmart Virtual Employees for four years, serving a property management company in the U.S., primarily handling lease renewals.



She applied for one of 20 scholarships HireSmart Virtual Employees offered this year to the children of its employees through its nonprofit arm, HireSmart Cares. HireSmart is the leader in the virtual employment market in looking out for its staff, offering good wages, health and dental insurance, quality training and support, leadership courses, and educational scholarships for the children of its employees.



"What HireSmart has been doing helping kids, that's different," said Jonalyn. "I've never heard of a company that does that, you know."



Jonalyn smiles, talking about Marciella Audrey. She says her child is energetic and loves to dance and draw. Jonalyn is a singer and used to perform mellow love tunes with a band but now enjoys the occasional karaoke party.



"I kind of want her (Marciella Audrey) to try singing as well," she said.



Jonalyn says her daughter is young and is not fully aware yet of her brother's challenges, but she said understanding will come with time.



"We kind of just tell her that your big brother doesn't understand the way you understand, and he's going to a different school than you," she said. "She says, 'OK.' But you know, she's 5. She'll understand that later on with guidance."



Jonalyn said she is elated to give both children what they need, and she voiced gratitude to HireSmart CEO Anne Lackey.



"It is an honor to have been chosen as a recipient, and I am deeply appreciative of the opportunity given," she said. "This program will make a tremendous difference in our kids' lives."
"An answered prayer" — that's how Ina describes the educational scholarship for her son through her employer, HireSmart Virtual Employees.



Ina, an employee of HireSmart since May 2022, and her husband, Mark, have two young boys, Isaiah Ambert, "Ice," 4, and Ishaan Amani, "Amani," 2.



Ina applied for an educational scholarship for her son, "Ice," through HireSmart so that he could attend a local Kumon school, which specializes in teaching reading and math to young children. HireSmart CEO Anne Lackey informed Ina that her family received one of 19 HireSmart scholarships this school year.



"I was so thankful, she said. "I felt so blessed in that moment when Anne confirmed that I got the scholarship. I was actually thanking God for it because I prayed for it. My husband and I both prayed for it (the scholarship)."



Ina shed tears when talking about receiving the scholarship, noting that her family could not enroll Ice in Kumon without financial assistance. She said giving her kids the best education possible is a priority for the family.



"If not for the scholarship, we wouldn't be able to have our child enrolled in the school," she said. "So it's really a great help for us. We can see how our kid is developing and see how much he has learned."



Ina said Ice is an inquisitive, confident, and empathetic boy who loves watching "Blippi," learning about animals, and is fascinated with excavators, garbage trucks, and other big machinery.



"He's also a part of our church choir, so he loves to sing," she said, adding that he always asks questions about whatever he sees and hears.



Ina and her family attend church on Sundays and spend time doing fun activities on Saturdays.



"We go out or play in indoor playgrounds," she said. "We also love swimming, so we go to beaches whenever there's a time."



Ina said her son enjoys attending school and asks about it when he's not there.



"They (Kumon) are teaching the kids to have independence when it comes to learning to study at home," she said. "I would say that it's really true because, at 4, our child can already study independently."



Ina said her job at HireSmart working for a U.S. client in the community association management industry is a blessing.



She enjoys being able to work from home and watch over her young children.



"As a parent, you will always think of your kids whenever you're not at home, so I believe it will be really tough working in an office-based company right now for me," she said. "So HireSmart is very a big blessing for us."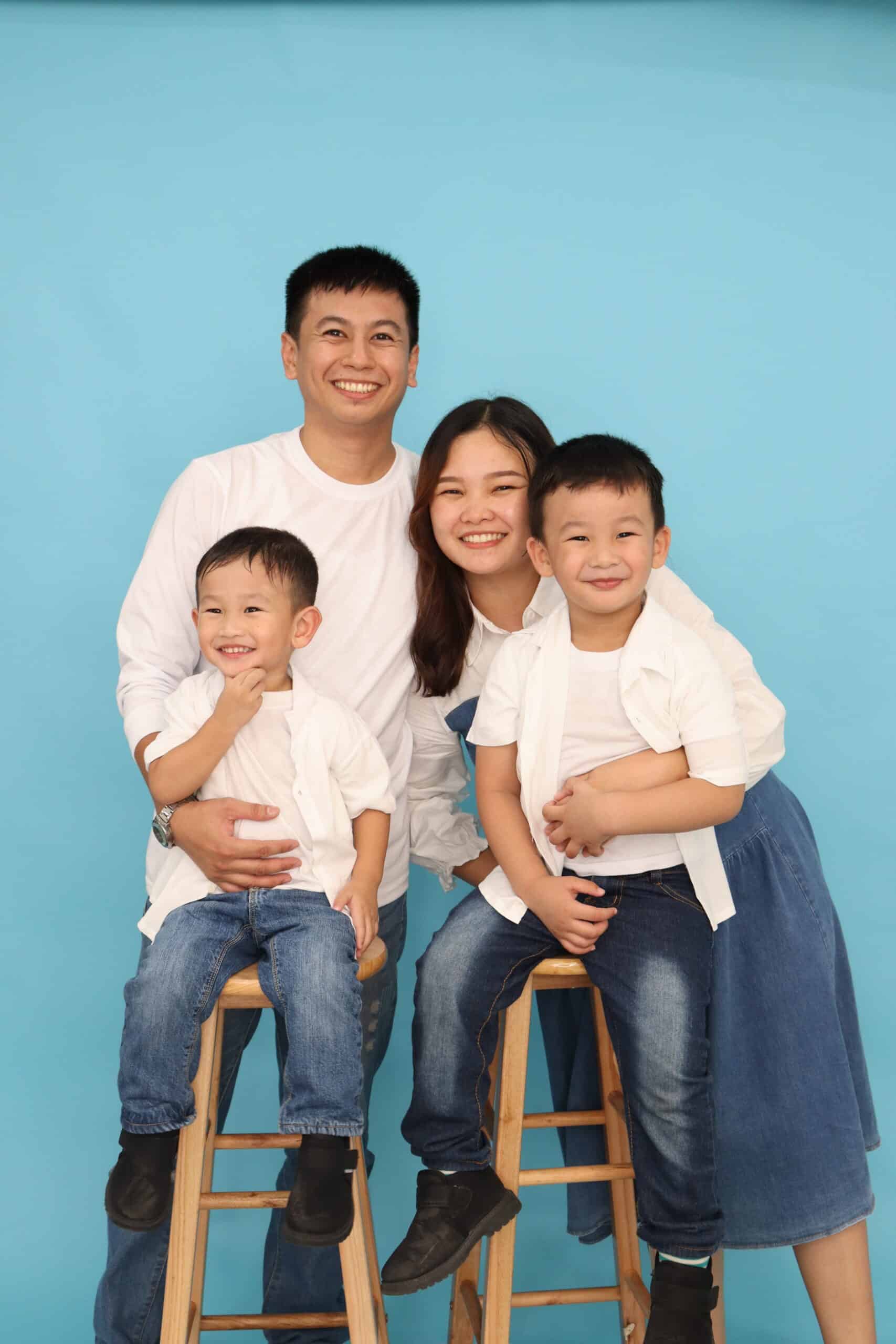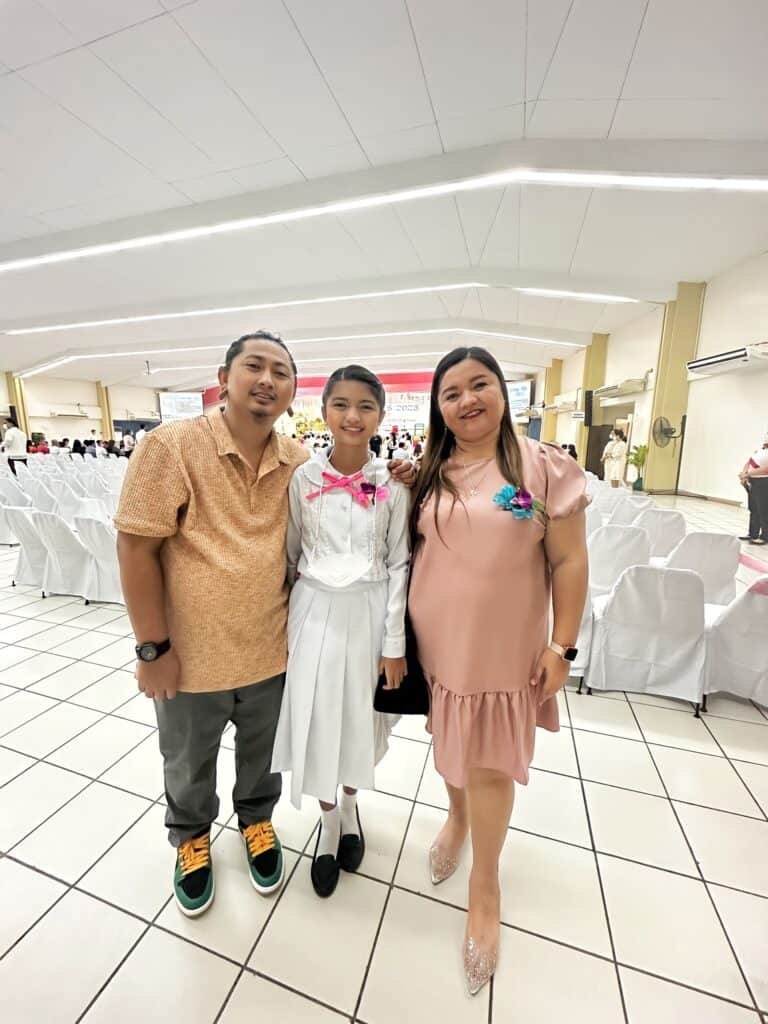 Vanessa says her daughter is a "happy kid," and she wants Jana Valerie to stay that way.



Thankfully, a scholarship through HireSmart Cares will do a lot to keep the smile on the seventh grader's face since she can now remain at a private school in the Philippines with her friends.



Vanessa, a HireSmart employee, says a private school education is far superior to a public school experience in the Philippines.



"I'm also a graduate of private school, so I know the quality of education it can give to my daughter," she said. "I'm so thankful to HireSmart for helping me sustain the education of my daughter."



HireSmart provides its employees with medical and dental insurance, leadership training opportunities, and family scholarships, as well as a work-from-home lifestyle for good wages.



Vanessa and her husband, Edgar, have two children, Jana and a son, Josiah Vans, who just started college and plans to be a civil engineer.



The family could afford to send both to private school, but with Josiah moving to college, where costs are double or triple the grade school expenses, Vanessa and Edgar needed to enroll Jana in a public school.  



"She (Jana) didn't complain; she understood our financial status, but I know, as a mom, she would want to retain her school," said Vanessa.



She added that Jana was "so happy" when she learned she could stay at the private school with her friends. Jana plans to be an architect one day.



"If by God's will, they will both be successful, that's really great to have an architect and a civil engineer at the same time in the family," said Vanessa.



The proud mom says her daughter is a "very friendly, positive, outspoken kid" and the "joker of her class." She doesn't remember her ever getting lower than a 90 on tests.



"I'm not really the type of mom who would push her, but she has that determination to really do well in school," she said.



Jana participates in math and badminton clubs, and the family plays badminton on the weekends.



"We're playing with her whenever we can, me and my husband," she said.



Vanessa has served a community association management client in the U.S. for four years.



"I enjoy the work very much," she said. "I think I'm the longest-staying Filipino assistant in the (client's) company. They treat me with respect. It's a fun environment. There's pressure, but you can't really feel it when you're having fun with your co-employees."



Vanessa said she also enjoys working for HireSmart, which hires virtual employees to work with their U.S.-based clients. She said she's unaware of other companies providing families of their virtual employees with scholarships for education.



She thanked HireSmart co-founder and CEO Anne Lackey for helping her family.



"I'm happy we have this offered, and I would like to personally express how grateful I am to Anne and HireSmart for thinking about the employees," she said. "This is a very good program for the employees because it affects our loved ones. And we are much more appreciative and motivated to work if our loved ones are happy. For me, that's really true. They are the reason why I'm working hard."

Our food doesn't grow in grocery stores.
That's one of the first agricultural lessons a child should learn in life, the fact that a lot of hard work is involved before any bite we take, from milking cows to planting and harvesting crops to transporting food from farms to stores.
The farm-to-table journey is a web of human collaboration, know-how, and daily effort.
HireSmart Cares, a 501c3, supports its local farming community and wants to see the next generation of farmers succeed. That's why HireSmart supports the ag community from every angle, whether it's providing scholarships for students pursuing ag-related degrees or committing to 25 percent of livestock housing costs at the soon-to-be constructed ag center so students who don't live on farms can take on the responsibilities of animal care and perhaps venture into an ag career.
HireSmart U.S. Agricultural Assistance — Kaylee's Story
HireSmart is always asking, "How can we help?" So, it provides aid in various ways, such as awarding a grant to a local teenage soap maker to purchase a milk machine to use with her cows that supply the milk for her soap.
The nonprofit provided a grant for Madison County's October Pioneer Harvest Festival for children's "Farm Fun Zone," which was used to purchase miniature tractors so kids could feel the thrill of being a "farmer" while waving at mom and dad.
HireSmart Cares has a simple mission: "helping kids." We're always eager to support the next generation with tools, technology, time, and teaching. We're always searching for children and teens who aim to better themselves and be tomorrow's leaders. We want to give those young people that extra boost to succeed.
Our nonprofit supports the next generation in three areas of giving:
Supporting young farmers
Supporting the children of our Filipino employees with educational scholarships
Supporting U.S. careers through workforce development programs, scholarships, and grants
HireSmart U.S. Career Assistance — Jeremiah's Story
"I have witnessed the impact of Hiresmart Cares from an educational and industry standpoint, and the contributions made by them are life-changing for students starting their careers," said Jake Slusher, former construction teacher and current Field Training Director for E.R. Snell Contractor Inc. "Hiresmart Cares helps students overcome unforeseen expenses that general scholarships do not cover. They have helped students entering trades buy tools, purchase boots to keep them comfortable at work, uniforms/work attire, and provide funds for transportation. Many scholarships require students to go to college or enter a certain field, but Hiresmart Cares puts the student's dreams first by helping them in many different industries, including healthcare, construction, manufacturing, and business entrepreneurship."
Help us help kids. Do you have an idea of how HireSmart can support the next generation? If so, contact us at Info@HireSmartCares.org.
Jeremiah Weaver marched across the graduation stage in May and took his high school diploma in hand. Soon, he had a sizable paycheck in his possession, too.
The 18-year-old Madison County High School graduate is working nights at Caterpillar, the world's largest manufacturer of construction equipment.
"I like it," he said. "It's something new. We build upper frames for the 308 excavators."
Jeremiah got a financial boost before he started his Caterpillar career with a "Workforce Development Grant" from HireSmart Cares that provided funds for quality work boots.
"They're good boots," he said. "I wear them eight hours a day, every day."
Jeremiah says each shift starts with a safety meeting.
"And then you go set up your area, and you build your part, which is your upper frame, and weld everything together, and then you push it through a robot," he said. "There's a post where you build the part and tack everything together, and you take the part that you tacked together and put it in the robot, and the robot does the full welds onto the part."
The recent graduate, who was introduced to welding at Madison County High School by ag teacher Joshua Daniels, says Caterpillar provides a lot of opportunities for him, but he's planning to start his own welding company in a few years.
"There are a lot of ways you can move up at Caterpillar," he said. "But I'm going to start my own welding company. I want to go to Athens Tech to get my business degree. It will probably be about five years before I can (start my business) because I want to do it right and have enough money to start it the way I want to."
Jeremiah, who likes to hunt and fish, said it feels great to earn a living right out of high school.
"It's a good paycheck, too," he said. "The last one was $1,400 for two weeks."
Jeremiah's story is exactly what HireSmart Cares hopes to see: a young person introduced to a career skill in grade school and then making the most of that knowledge with a good-paying job after graduation. HireSmart funds numerous workforce development programs, grants, and scholarships to support young people in their quest to better themselves and their communities.
Mark Lackey, co-founder of HireSmart Companies was the speaker at Rotary to share the vision of HireSmart Cares.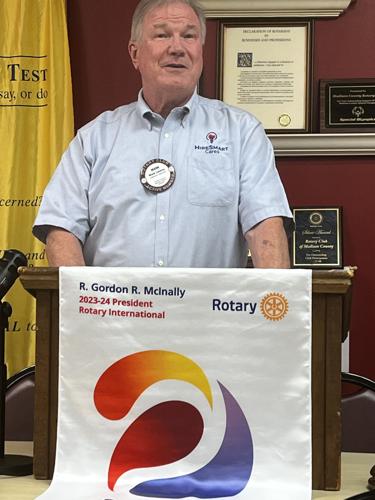 Troy Hanson's family doesn't need Starbucks. No, they have a coffee whiz under their own roof. And Hanson, a rising high school sophomore, aims to make a career out of the coffee business.
"Ever since I was young, I just like making coffee and food, and I have my own little store that I have in my house," he said. "I started doing that when I was about maybe 12. My family would order something out, and I'd make it. They would order lattes, hot chocolate, cappuccinos, frappuccinos, all sorts of stuff."
Hanson, the son of Richard and Christy Hanson, plans to open his own coffee shop in a few years, and he got a big boost from HireSmart Cares recently, a $2,500 scholarship to help him get the business off the ground.
"I will use the money for probably equipment," he said. "That takes a lot of the budget. I will probably need a larger espresso machine as well as a register."
Hanson earned the scholarship by winning first place in the 2023 Madico Makers contest put on annually by the Madison County Chamber of Commerce. Young entrepreneurs in the county make a "Shark Tank" business pitch to a panel of judges. HireSmart awarded the second and third-place winners $1,000 and $500.
This year's winner presented his plans for "Anchors Café."
"I thought of Anchors because it is in the Bible meaning 'hope,'" he said. "I talked about how I would open up and who I would ask for coffee beans, who I would purchase from, and where I would set my shop up when I do."
Hanson initially plans to set up his coffee business within HomeGrown Market in Colbert, Georgia, which offers a variety of homemade items from Madison County and the State of Georgia.
"They need a person to sell sandwiches and beverages," he said. "Once it (Anchors Café) gets larger, I would think about opening up in a different building and hiring."
Hanson, who plans to study business and cooking in college, voiced his appreciation to Mark and Anne Lackey and HireSmart Cares for the scholarship.
"I would say thank you so much for this opportunity," he said. "It's greatly appreciated that you helped me as a young person to become independent and make my business a business."
HireSmart Cares actively promotes young entrepreneurship, job skills development in grade school, and financial literacy so that youth can be prepared to enter the workforce and perhaps start their own businesses directly out of high school. The organization discourages students from saddling themselves with significant college debt without a clear path to pay it off.
Hanson, who has five siblings, said his most popular item is "mainly my frappuccinos," but he said that's not what he typically drinks.
"My favorite is a flat white," he said. "A flat white is where it's mainly just espresso, and milk has barely gotten any foam."
There are many threats in the digital world, and it takes technical savvy to safeguard today's economy from malicious actors.
Remington Gurley, a 2023 high school graduate, wants to be on the front lines of that battle, and he's getting support from HireSmart Cares to prepare him for that role, receiving a $1,000 scholarship to attend the University of North Georgia, where he will major in cyber security.
Remington said a friend introduced him to the possibility of a career in digital safety.
"I knew I wanted to do something with computer science, but I didn't know what," he said. "And so my friend and somebody he knew were playing around with it one day. He said you want to join us, and I said, 'Sure." And it was super cool, the idea of ethical hacking."
Remington, a kicker on his high school football team, as well as a soccer player, has many interests, including computers, mountain biking, music, and aviation. He wants to fly planes one day.
But his faith is his central focus in life. Remington said he dedicated his life to Jesus Christ around the age of 8, and he's active at his church, Trinity Baptist, helping lead worship as a keyboardist.
"I started playing piano at age 6," he said. "I practiced and stuck with it, and I guess it's been 12 years now I've been playing."
He said playing in a praise band is different than performing alone, noting that in a band, you have to be aware of other players and not fill all the space, letting others shine musically.
Remington said he's worked at the church the past couple of years providing compter-tech, musical, and lighting assistance. He said Trinity worship leader Jeff Branson is a role model to him.
"These past couple of years, I've been hanging out with him and working with him a lot more," he said. "His impact has been huge on me. He's smart. It's very encouraging to see him lead other people. It's like, man, this is the guy I want to be like."
Remington spent several weeks after graduating high school leading worship at Camp Maranatha, where kids attend a Christian summer camp.
"To me, worship is one of the big ways you can connect and be in His presence," he said. "You feel you are with God, and I want them (the kids) to feel that feeling and to understand that the words we're seeing aren't just words on a screen. They're powerful and have meaning behind them."
While cyber security is his college major, the recent graduate doesn't close the door to a career in the ministry.
"I've had thoughts of graduating college and then maybe going into ministry somewhere," he said. "And that's one reason I enjoy leading camps and stuff in summer."
As he looks ahead, Remington knows he has the support of his parents, Todd and Brandy Gurley, who also have a daughter, Journey, an accomplished pole vaulter at Virginia Tech.
"Whatever I've wanted, my parents have always encouraged me, and their biggest thing is, 'Whatever you do, enjoy it, but also make sure you put that don't just halfway do it,'" he said. "Put 100% effort into whatever you do.'"
Remington also has the support of HireSmart Cares, which funds numerous workforce initiatives and scholarships to propel U.S. youth to a bright, productive future. The college-bound teen said he wants to repay HireSmart's generosity by giving back to his community after graduation.
"It's very encouraging and very helpful," he said of the scholarship. "College is expensive, and I hope they (HireSmart Cares) are going to be happy with what I do and happy with my success. And hopefully, after I come back, I can help in the community and give back what they gave me."
Donate And Help Kids Here.
Tony White didn't need college to get a foot forward in life. He got a good-paying job right out of high school with a construction company operating heavy equipment. And he got a welcome boost to start his career with a grant from HireSmart Cares. 
The graduate of Jackson County High School in Hoschton, Georgia studied construction under instructor Jake Slusher and learned about heavy equipment primarily on simulators. But he turned the experience into the real deal, working machinery for Snellville-based road construction company, E.R. Snell Contractor, Inc., which handles a high volume of road projects in north Georgia.
"Mr. Slusher asked me if I'd like to do the heavy equipment class, and I was like, sure," said White. "And after I started liking it and being good at it, he was like, 'Would you like to work with ER Snell?'" 
Well, heck yeah! White jumped at the chance. Now, he's operating a bulldozer on ER Snell road construction sites.
"I'd like to work my way up in the company," he said. "It (ER Snell) seems like a pretty darn good company."
He said it feels good to get a nice paycheck right out of school. And he said he hopes the money can help him develop another skill, blacksmithing. White said he plans to save up enough money to purchase tools.
"I got to get a few paychecks first," he said.
The recent graduate expressed gratitude for the boost he received from HireSmart Cares, which provided "Workforce Development Grants" for White and 13 of his Jackson County classmates who entered the workforce or the military directly out of high school.  
"It will help me get a car," said White.  

HireSmart Cares encourages youth to find a career path that doesn't involve taking on massive college debt without a plan to pay it off. The nonprofit organization supports agricultural and vocational programs that help students find fiscally rewarding career opportunities right out of high school. If you would like to donate, we would appreciate your donation. DONATE NOW 
Kaylee Brown believes home is where the heart is. She feels connected to the land, the animals, and the people of her home community, and once she graduates from college, she wants to move back home and teach youth about the importance of agriculture and the joys it holds. 
"I want to come back to Madison County," she said. "I like the community here, and we all kind of support each other."
HireSmart Cares is helping make an ag-education career a reality for Kaylee, rewarding the 2023 high school graduate with a $1,000 scholarship to assist her at Abraham Baldwin Agricultural College (ABAC). HireSmart funds numerous ag-related scholarships and initiatives to support a new generation of farmers and ag leaders who will feed the U.S. and the world in years to come. 
Kaylee, the daughter of Ray and Suzanne Brown, said she's always been drawn to the outdoors. She hunts and fishes with her father and has enjoyed working with cattle. Her family has a couple of cow/calf pairs, and her uncle has a larger cattle operation, where she helps vaccinate the animals.
She also showed cows in livestock exhibits during high school, adding that the camaraderie among fellow show team members was special.
"It was like one big family," she said. 
Kaylee wants to be like her former ag teacher, Kalie Blevins, who left education to run her company, Bold Spring Blooms. She said Blevins was caring, a wonderful instructor, and instrumental in getting her involved in floral design.
"Once she left, it really hit me how much she did for me and how she helped me break out of my comfort zone," said Kaylee. "I want to be that mentor one day for kids."
Kaylee expresses interest in teaching either middle school or high school, where she can help students as they explore what they want to do after grade school.
"We'll see," she said. "I'll just see where God takes me."
In her spare time, Kaylee enjoys music and singing in church. She also finds peace in making floral arrangements.
"It just calms me," said the recent graduate, who won floral competitions in high school.
Kaylee spent summer days between graduation and college babysitting six children between the ages of 2 and 9. Now, she's off to a new challenge. And she's grateful to HireSmart for making that road a little smoother.
"I want to thank you for helping make it possible for me to pursue my dream of becoming an ag teacher," she wrote in a "thank you" letter. "Your contribution to my education is so generous and will allow me to focus on my studies."
Donate And Help Kids Here.