Nate Tucker is a high school senior and already living an adult grind. He works weekend nightshifts at Wendy's, clocks in five days a week as a line support member at a Kubota plant, and maintains a high grade point average.
The 18-year-old has had some rough breaks at home over the years and was placed with family members who say he must leave their house as soon as he graduates.
"I'm having to find a new place to stay after graduation," he said. "It's nothing I've done. They just don't want me there."
But Nate has an advocate in his Work-Based Learning counselor, Kate Wilson, who sees a drive in the young man that many of his peers lack.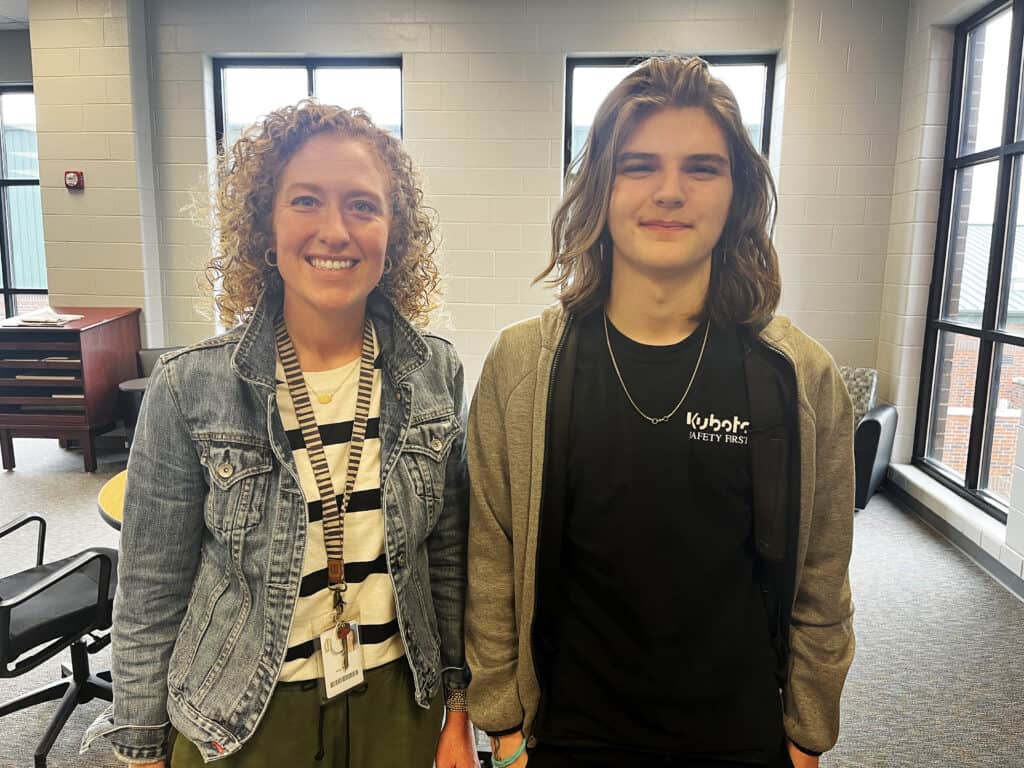 "We work with many kids who don't care, who don't work, and who don't show the initiative and the drive," she said. "They're not dealing with half the issues in their life as Nate deals with. It is rewarding to work with students who care about their future. And it is rewarding to work with kids who work as hard as Nate works."
Kate arranged an interview at Kubota for Nate. She said the gratitude he showed was touching. The two were walking back to the car at the plant after he got the job when Nate tapped her on the shoulder.
"He asked, 'Can I hug you? Nobody's ever done this for me,'" said Kate. "I think my job is important in many ways, but it's not typically that important. To find a kid in a hard situation and put him in a job that potentially changes his life."
Getting the Kubota job meant purchasing work boots, and not the cheap kind. Nate took his Wendy's money and bought a good pair.
Kate asked him how he would manage financially that week.
"I'll make do," he said.
Kate then remembered Mark Lackey and HireSmart Cares.
"Mark came to a construction advisory committee meeting that I was also present at, and he talked about HireSmart and what the program does for students and what they're able to sponsor," she said.
Mark agreed to reimburse Nate for the cost of the boots, and the high schooler cashed the check a few days later.
"Because Mark acted so quickly, it really helped Nate, who is an independent 18-year-old paying for his own bills," said Kate.
The moment highlights exactly what HireSmart Cares actually cares about - helping young people with initiative find a path to success, even if it means putting boots on their feet.
Nate said he works with power steering pumps and drive shafts at Kubota.
"With the drive shafts, you have to unwrap the covers and then get a bar code and stick into something with the driveshaft and keep up with it because if you don't, it messes the whole thing out of the track," he said.
Nate also enjoys chemistry and his composition class with Kenneth Powers, who said Nate shows a real drive to be his best.
"We live in an era when so many students take things for granted," he said. "This student is not taking this for granted. He understands how important this is to his life script. This is his ticket to job satisfaction and success in life. And I think he's going to run with it. I really do. Some people just need a little help. He's a survivor."
Donate And Help Kids Here.
Masi Gaither's candles are meant for the nose and eyes, but they tempt the taste buds.
"My biggest seller is my banana pudding," said the owner of Hitchcock Confectionary Candles in Augusta, Georgia. "It has a banana slice and a vanilla wafer in there. It's all wax. My second best-seller is strawberry cheesecake. And then I have brownies."
HireSmart Cares helps young entrepreneurs like Gaither, a 2022 high school graduate, bring savory smells, sumptuous barbecue sauces, or whatever business hopes they have from dream to reality.
That's why Mark and Anne Lackey, owners of HireSmart Virtual Employees and its sister nonprofit organization, HireSmart Cares, gave Gaither seed money for her fledging commercial operation.
"By 12 years old, I had four businesses," said Mark. "I've always had the mindset of starting and doing things. I drive Anne crazy with ideas. And some of those kids out there remind me of me."
Mark and Anne want to see the entrepreneurial spirit passed from generation to generation. That's why they're glad to provide financial support to Gaither and others, just a little boost to help young self-starters carve their place in the market.
But running a business takes much more than an idea. There's putting together a business plan, a budget, a marketing plan, and a personnel policy and then carrying through on all the daily details. It's work, but there's also a huge potential reward. HireSmart drives home a simple message to young business hopefuls — look at the big picture and the details, then give it a go. Don't be afraid!
"HireSmart really helped a lot," she said. "I was able to use the funding to elevate my business more by getting more materials to make my inventory. I was very grateful for them to give me that opportunity."

Gaither said she's thrilled to get the support from HireSmart.
Gaither's business is currently a part-time commitment. The newlywed also works as a receptionist at a pediatric office in Augusta. However, she's hoping to make the candle enterprise a full-time job.
"I work on my business all the time," she said. "But I would like for this to be my full-time commitment. I work on it when I can."
She aims to provide non-toxic candles in the candle industry, a market dominated by big companies that sell candles from paraffin wax, which she said isn't healthy.
"I use coconut soy wax, and all of my candles are vegan," she says. "I really wanted to hit that target audience."
Her inspiration came from her mother and grandmother.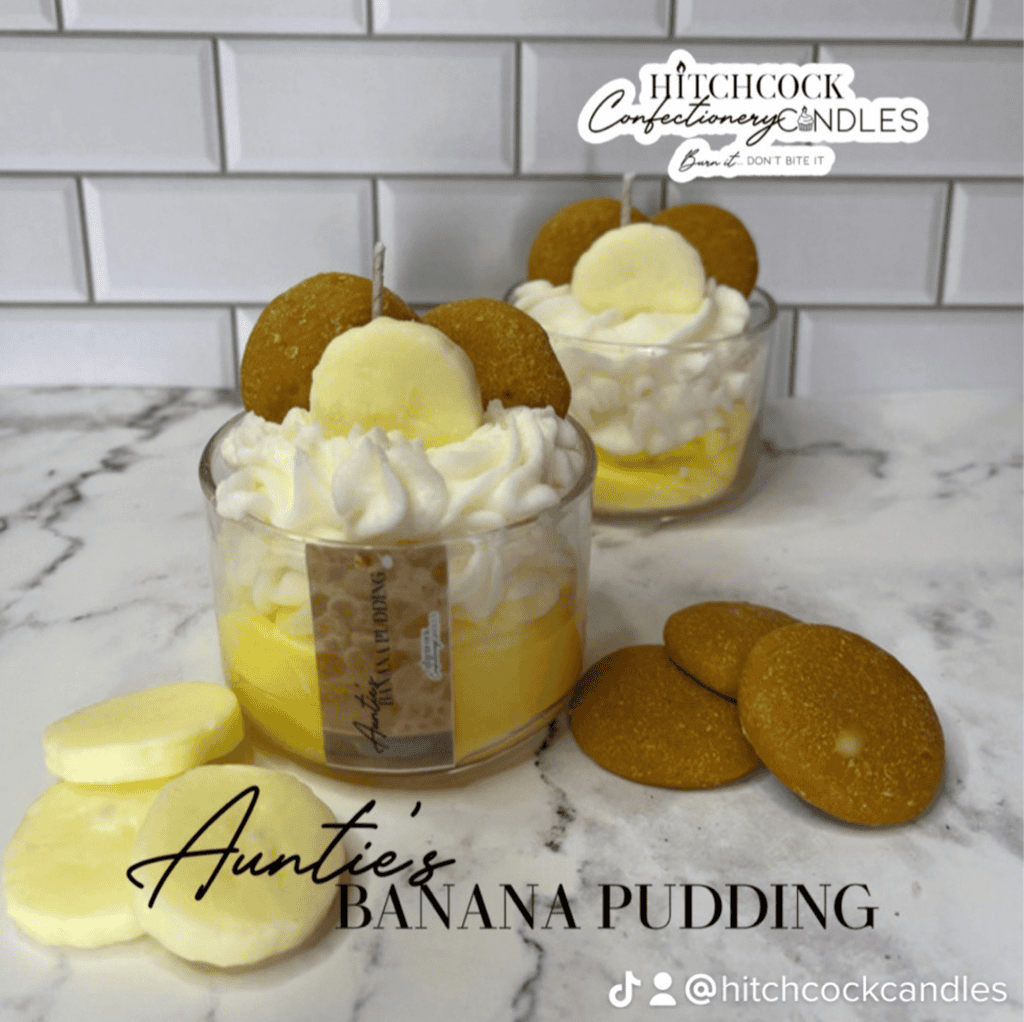 "They love anything that smells good, candles, perfume, anything," she said.
Gaither wanted to create something different, and that's when the idea of dessert candles came to her.
"I just wanted to be different when it came to how I presented it," she said. "That's what inspired me to do the dessert candles. It smells exactly how it looks."
Like you want to eat it.
Donate And Help Kids Here.
The fear and darkness are vivid memories for Richan, whose home in Cebu in the Philippines was hit by Typhoon Rai in 2021, and the tears flow as she recounts the storm's aftermath and how her employers helped her in a difficult time.
"I'm getting emotional right now," said Richan as she got choked up with tears, recounting how Mark and Anne Lackey, owners of HireSmart Virtual Employees and HireSmart Cares, stepped in to help her family — and other HireSmart employees — after the typhoon.
The storm took out electricity in her community for a month, but HireSmart helped Richan find light, literally.
"The financial assistance they gave us was really good," she said. "We were able to buy generators."
Richan, who serves as a resource support specialist for a property management client in California, was able to continue performing tasks for her client during the extended power outage. And her family was able to have times of relative normalcy in the month-long blackout thanks to the electricity.
"We did at least get to experience a little bit of comfort because we knew we could do something," she said, noting that the family watched some TV and charged its electrical devices during the four hours in the morning and four hours at night that they ran the generator set.
Though the internet was also out at her house for a month, she was able to find places with access, and she continued working.
"There were signals in a few areas," she said. "So when I learned about it, I would take my laptop there."
Her teenage daughter could also continue with her online classes thanks to the generators that kept her computer charged.
Richan discovered the financial help from HireSmart eight days after the storm when she was able to check her bank account and messages.
"I was just surprised something was in there," she said. "I was checking, and I think, 'Oh my God, what's this?' And then I got this email saying that it came from HireSmart. I said, 'Oh my God, thank you so much!'"
Richan and her husband have three children — two teens and a toddler. She said Dec. 16, 2021, the day of Typhoon Rai, was horrifying.
"We were really frightened that day," she said. "I think it was the scariest day of my life. I was thinking if the roof gets ripped off, where could we go after that."
The family huddled in their home that night as the typhoon tore off part of their roof. They survived the storm, but there was considerable damage to the roof, which became evident as water leaked into the house during the storm.
Richan, who worked in an Australian-based software company for 12 years, has been with HireSmart for nearly four years.
She said she is thrilled to work at home and care for her family, who she says is a tight-knit crew.
"My oldest is in his first year of college, and he's taking up nursing," said Richan, whose youngest child is 2. "And the second one is in senior high school. They both love to dance and sing."
Richan said HireSmart is a great place to work because it helps families spend time together and supports families when they're hit with hard times, such as a typhoon.
"They (HireSmart) were concerned and checking in to see how we were doing," said Richan. "You know somebody cares, and you can count on them. They really are family!"